Yamuna Expressway Has Emerged as a Growth Corridor with World-Class Connectivity ?>
Yamuna Expressway Has Emerged as a Growth Corridor with World-Class Connectivity
Ever since the evolutions of property market, the plots at Yamuna Expressway are much in demand. The real estate here has emerged as the most flourishing market. Taking an instance a person who bought a 3 bhk flats in yamuna expressway long ago is now believed to be the richest man among his family members and relatives. At that time, the apartment cost him a mere Rs. 18 lakh. Today, it is worth around Rs. 90 lakh, and due to growth in construction technology and coming of various commercial offices and shopping centre the cost of property near Yamuna expressway is growing day by day.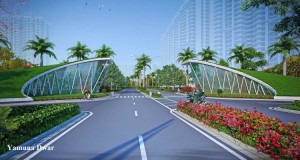 Today there are thousands of such investors. Like him, who have made huge profits by investing on 2/3/4 bhk flats in yamuna Expressway. When the expressway was proposed, the property values jumped automatically and become the hottest destination for home buyers.
Gaursons India is one of the top visionary developers who had crafted its most luxurious residential complex Gaur Yamuna City at Yamuna Expressway just in front of F1 track & next to night safari to help the home buyers in this area.
The plots in yamuna expressway have successfully provided healthy returns on investments in a long-term. According to the builder, the expressway was ideally planned to provide seamless connectivity between Delhi and Greater Noida. However, this location is not only ideal for traveling but also triggered a wave of real estate development of both sides. The location has seen a healthy price movement since then.
However, with the coming of several semi-luxuries, mid-luxury, and commercial projects coming up during time, the location has created the immense potential for investors as well. Today, both, end-users and investors are keeping their eyes on 4 bhk flats in yamuna expressway.
In addition to these factors, the future of this location is highly supported by developing social and physical infrastructure, improving connectivity and growing job opportunities.
Also Read:- Gaursons a Fine Blend of Aesthetic Design & Quality